So I have her head attached to the body now and her face is done... Waiting on the next lesson.
Picture of her with the fabrics I will be using for her outfit and wings.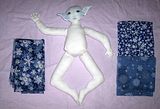 Close up of her face, isn't she adorable?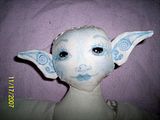 I am waiting on her hair, it was special ordered from Rynda Original Designs. It is Hand-Dyed Tibetan Lamb Skin, in Heather Blue. This is so exciting!